CAR WITH DRIVER THE MINIMUM HIRE DURATION
Hourly car with driver service is mostly intended for the trips with pick-up and drop-off in the same region, you can ride everywhere across France or Europe but drop-off will be not very far from the pick-up address, anywhere within orange Zone 2 (see on the map below), for additional charge it can be everywhere within Zone 3 (Beauvais airport, Disneyland Paris etc...). Of course, you can use hourly car with driver service for a one-way trip, but you shall pay for a minimum hire duration.
If you need a long-distance one-way transfer you better use our long distance taxi and private transfer service here.
To know the minimum hire duration that you can select during the booking process you need to find out in which zone is situated the farthest destination from Paris of your journey.
Zoom or search on the map the most distant city, town or address you would like to go to, and see on the label with Zone number the minimum hours applied to this Zone.
If you plan to visit several destinations, only the most distant destination must be considered to know the minimum duration of the hire.
If you selected the wrong duration for your hire, don't worry, we will help you to correct it later, when we receive your booking.
Why the minimum hire duration is important for us?
1. In order to offer you unlimited mileage, we apply the rule "take or pay", you have to take some minimum number of hours or at least pay for it. The price per hour is fixed, only the minimum hire duration varies depending on the distance from Paris.
We do not limit the distance and you can ride as far as you can during your hire time.
2. Our experience allows us to know the optimum duration of the trip for each destination. To have enough time to visit and to travel back and forth.
3. Let's consider this case:
You hired our chauffeured car for a ride from Paris to Bruges (180 miles) for a duration of 3 hours and 30 minutes. You know that this distance can be covered in 3 hours 30 minutes, so you will pay a total price of €40 * 3.5 hr = €140, but this amount does not cover our production cost. Only a toll road and fuel will cost us € 90, if we take into account the driver's working time the production cost will be much higher. That's why we apply a minimum hire duration of 14 hours for our chauffeured car service to Bruges and other destinations.
How we calculate the total price of our hourly long-distance chauffeur services?
The total price of chauffeur hire is calculated like this: we multiply the price per hour by the number of hours of the hire. As our price is all-inclusive that is the total price that you will pay for your trip. The hire time includes the trip from pickup point to your destination(s) and back to the drop-off point, this is true in the standard case when pickup and drop-off are in Paris or its suburbs 16 miles (25 km) around (orange Zone 2). This Zone includes all Paris airports: CDG, Orly, Le Bourget, and many towns in suburbs.
You can see the exact all-inclusive price you will pay for hourly hiring of sedan or van chauffeur service in our instant quotation and booking form. If you want to know the coach (bus) hourly hire price please contact us by contact form.
The additional charge when the pickup or drop-off is far from Paris
Free pickup and drop-off inside orange Zone 2: no charge for pickup and drop-off in Paris and its suburbs (16 miles or 25 km around) and airports around Paris (CDG, Orly, Le Bourget), it's for free.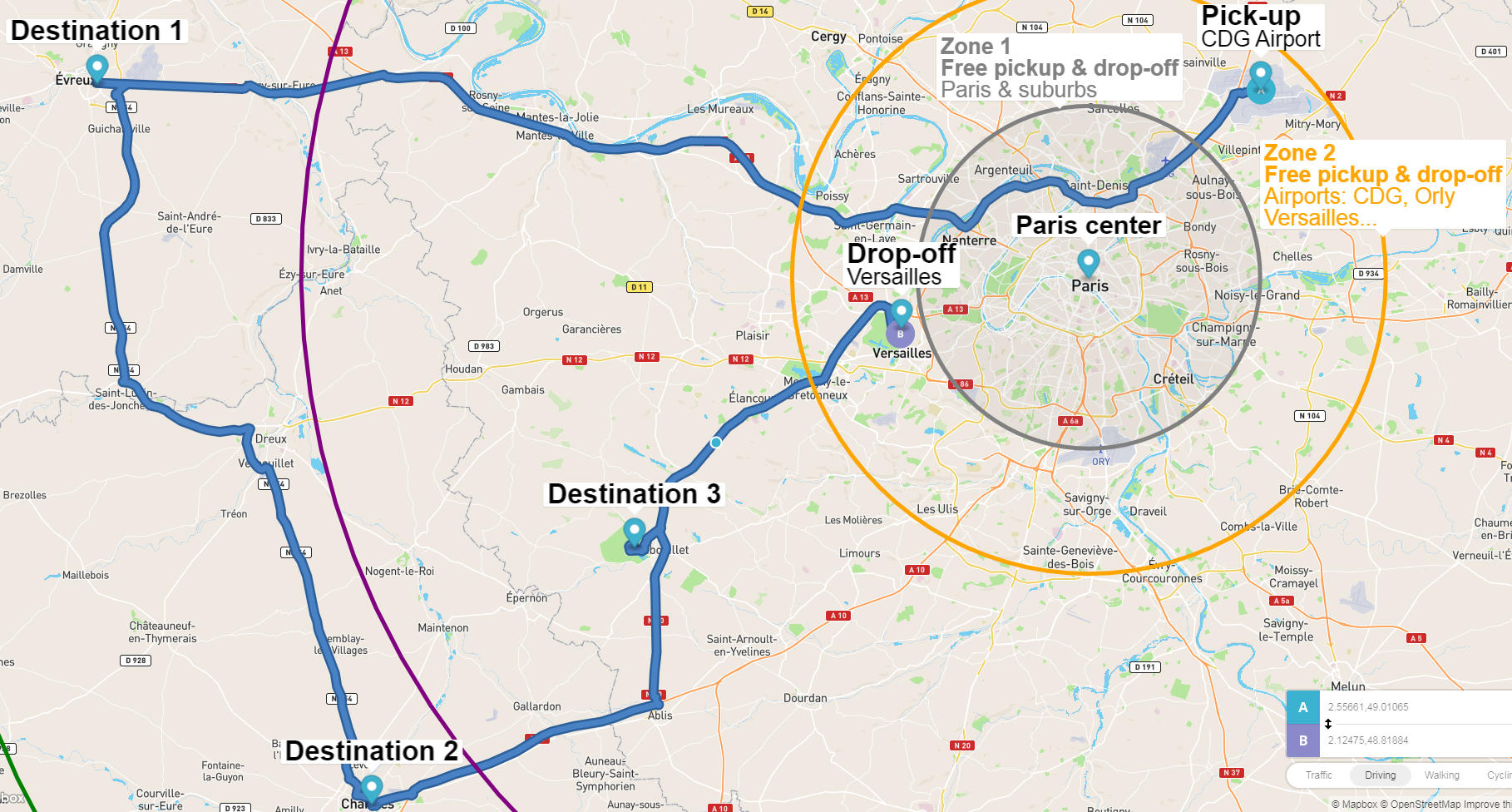 Pickup charge outside orange Zone 2: if the pickup is more than 16 miles (25 km) from Paris we can apply a fixed charge to the total price of hiring. For instance, if pickup is in Disneyland it's €70, in Beauvais airport (BVA) it's €80. The reason is that those places are far away from our base and we have to cover the cost of driving there.
Drop-off charge outside orange Zone 2: if the drop-off is outside of 16 miles (25 km) orange Zone 2 around Paris, no charge will be applied if the time needed to return the car to our base in Paris center is included in the hire time, otherwise, the time needed to return to Paris will be charged at the normal rate, this time will be calculated by the car GPS.
See on the map here if your pickup or drop-off address is within orange Zone 2.
If you have any doubts or questions about this, please contact us via the contact form.
CHAUFFEUR HIRE PRICE PER HOUR
| | | | | |
| --- | --- | --- | --- | --- |
| Paris & suburbs (16 miles/25km around Paris) | | | | |
| | | | | |
| Disneyland Paris hotels and park | | | | |
| | | | | |
| | | | | |
| | | Sedan/SW | Van |
| --- | --- | --- | --- |
| | | | |
| | | | |
| | | | |
| | | | |
| | | | |
| | | | |
| | | | |